CDP Achievement Awards 2019
The CDP Achievement Awards recognize awardees who are on a clear trajectory to become leaders in blood cancer research and/or treatment.
The Career Development Program (CDP) grants support researchers early and at different stages of their career. To acknowledge the most impressive contributions, in we instituted the CDP Achievement Awards to recognize awardees in each subcategory – Scholar or Scholar in Clinical Research, Special Fellow, and Fellow – who have the most significant publication(s) and are on a clear trajectory to become leaders in blood cancer research and/or treatment.
---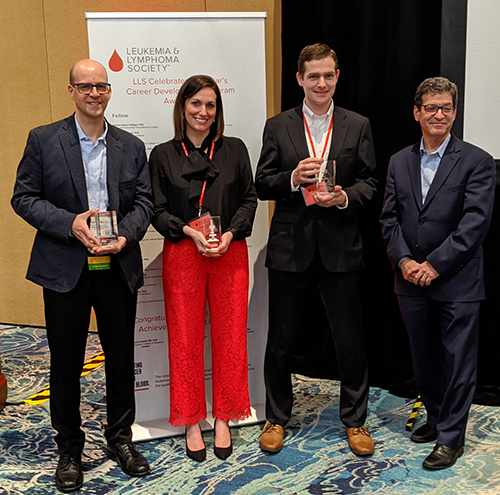 Pictured (L-R): Dr. Uli Steidl, Dr. Shannon Elf, Dr. Peter van Galen and Dr. Lee Greenberger
The winners of the 1st Annual CDP Achievement Awards were publicly announced at the 2019 ASH Annual Meeting on December 8, 2019 in Orlando, FL. The awards were presented live at the LLS Career Development Program Reception by Dr. Lee Greenberger, Chief Scientific Officer.
Get to know the 2019 winners: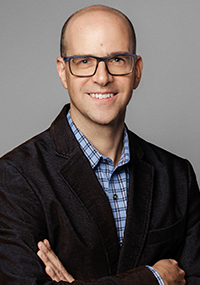 Ulrich G. Steidl, M.D., Ph.D.
Professor,
Director of Ruth L. and David S. Gottesman Institute for Stem Cell Research & Regenerative Medicine
Albert Einstein College of Medicine
2019 LLS-CDP SCHOLAR ACHIEVEMENT AWARD
---
I cannot overstate the impact that the LLS Scholar Award has had on my career and the research directions that my laboratory has engaged in. The award came at an absolutely critical time in my career and enabled me to significantly further develop and elevate my research program. The LLS Scholar funding allowed me to pursue several more ambitious 'out of the box' ideas that have led to important novel mechanistic insights, as well as preclinical and clinical drug development efforts targeting disease-driving stem cell compartments in myeloid malignancies, several of which are now being tested in the clinic.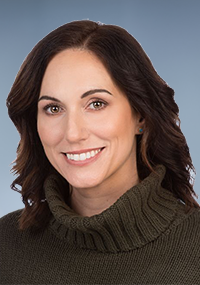 Shannon Elisabeth Elf, Ph.D.
Assistant Professor of Ben May Department of Cancer Research
The University of Chicago
2019 LLS-CDP SPECIAL FELLOW ACHIEVEMENT AWARD
---
CDP has provided me time, funds, and support to study questions central to how mutant calreticulin (CALR) causes MPN. With this information, I have been able to build upon the CDP-funded work I did as a postdoctoral fellow studying the central mechanism of mutant CALR in MPN to studying the "Achilles heels" of CALR-mutated MPN cells in my own lab at the University of Chicago. CDP has been a critical component of my transitioning to this independent position and kick-starting the projects currently on-going in my independent laboratory.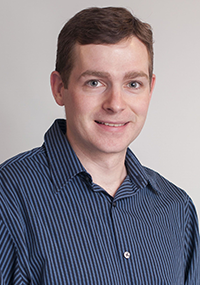 Peter van Galen, Ph.D.
Assistant Professor,
Harvard Medical School
2019 LLS-CDP FELLOW ACHIEVEMENT AWARD
---
Being awarded the Career Development Award from the Leukemia and Lymphoma Society has been transformative for my postdoctoral work and early career. The CDP Award gave me the freedom to apply single-cell technologies to better understand the different cell types that contribute to acute myeloid leukemia progression. It also allowed me to hire a research technician and gain laboratory management skills. All these aspects jump-started my career at a critical stage and led to my current position as an Assistant Professor at Harvard Medical School.