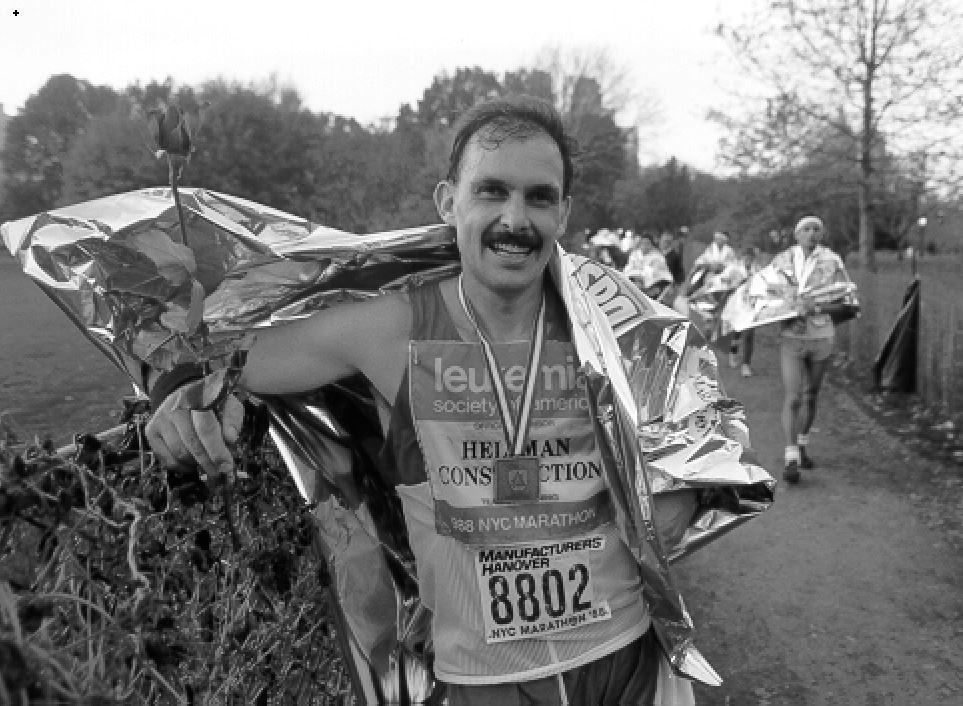 (Rye Brook, NY- November 2, 2023) Each year, runners from more than 140 countries convene in New York City to participate in the largest marathon in the world. But for some, the experience is about more than just partaking in the race. Since 1988, more than 4,300 runners at the TSC New York City Marathon have raised funds for blood cancer patients, their families, and caregivers through The Leukemia & Lymphoma Society's (LLS) Team In Training program. And, in its 35th year at the world-renowned event, the impactful fundraising program shows no sign of slowing down as they reflect on how it all started — one dedicated father's determination to dream big.
Team In Training was started in 1988 by Bruce Cleland in honor of his then two-year-old daughter, Georgia, who was diagnosed with acute lymphoblastic leukemia (ALL). He gathered a team of 38 runners to train for and participate in the1988 New York City Marathon. Additionally, they rallied supporters for their efforts to raise funds for LLS on Georgia's behalf. Bruce's team was one of the first-ever charity teams to participate in this type of event, raising more than $322,000 to support LLS's mission in support of those affected by blood cancer.
Today, Team In Training is the world's largest endurance sports training program and continues to lead the sports training category it invented over three decades ago with new and innovative features. No longer just marathons, today's Team In Training offers a lineup of innovative, high-caliber domestic and international experiences in cycling, running, hiking, trekking, and DIY events. More than 650,000 "teammates" have helped support LLS's mission – including its more than $1.6 billion investment since its inception in research to advance breakthrough therapies.
New this year for the New York City Marathon, Team In Training has created an training resource portal teammates can access online allowing anyone to easily bring their community together to train. A world-renowned coaching team manages the portal, led by a national coach that brings together all the personalization and inspiration that Cleland established 35 years ago.
Georgia Cleland, the then little girl who inspired the running-for-charity movement, had a small chance of survival when she was diagnosed with ALL at two years old. Today, she continues to honor her father and inspire others by sharing her heroic story, reminding people that while blood cancer treatments have come a long way, there's still much work to be done.
Through The Dare to Dream Project, LLS is executing its bold vision for pediatric blood cancer patients – to not only survive their cancer but thrive in their lives after treatment. While many children survive leukemia, the most common type of pediatric cancer, the treatments are harsh and outdated. Over the course of this multi-year initiative, LLS is increasing investments in pediatric cancer research, including the launch of PedAL, the first-of-its kind master clinical trial for acute leukemia patients, expanding education and support services for patients and families, and driving advocacy and policy efforts to break down barriers to critical care and prioritize blood cancer research for children.
"In the 35 years since Bruce Cleland helped LLS launched Team In Training, LLS continues to push boundaries as we seek cutting edge treatments and work to improve quality of life for patients and their families," said Coker Powell, LLS Chief Development Officer. "LLS is forever grateful for his profound impact on helping LLS get closer to our goal of a world without blood cancer."
Join Team In Training to take on best-in-class endurance challenges worldwide – while raising money to pioneer groundbreaking research and advancements in the fight against cancer for LLS. Whether you are just starting out or a seasoned athlete, LLS's team will get you ready for race day with professional coaching & training, customized fundraising support and exclusive event weekend experiences.
Learn more, https://www.teamintraining.org/
About The Leukemia & Lymphoma Society 
The Leukemia & Lymphoma Society (LLS) is the global leader in the fight against blood cancer. The LLS mission: Cure leukemia, lymphoma, Hodgkin's disease, and myeloma, and improve the quality of life of patients and their families. LLS funds lifesaving blood cancer research around the world, provides free information and support services, and is the voice for all blood cancer patients seeking access to quality, affordable, coordinated care.   
   
Founded in 1949 and headquartered in Rye Brook, NY, LLS has regions throughout the United States and Canada. To learn more, visit www.LLS.org.
Patients should contact the Information Resource Center at (800) 955-4572, Monday through Friday, 9 a.m. to 9 p.m. ET.   
LLS is the only organization featured in the nonprofit category on both Fast Company's 2022 Brands That Matter list and the 2023 Best Workplaces for Innovators list. LLS stands out among brands around the world for its relevancy, cultural impact, ingenuity, and mission impact.   
For additional information, visit lls.org/lls-newsnetwork. Follow us on Facebook, Twitter, Instagram, and LinkedIn. 
Media Contacts:
mediarelations@lls.org