Did you know that blood cancer is the most common cancer diagnosis for children, accounting for 40% of pediatric cancer cases? In fact, nearly 55,000 children and adolescents in the United States currently have blood cancer or are in remission from blood cancer.  
Advances in medicine have given most of these children a chance to grow into adulthood, but it wasn't long ago that a blood cancer diagnosis meant these young people would most likely lose their lives. However, the treatments that help survivors reach remission have many different side effects that ripple out and cause other health issues. The result? A shocking 80% of childhood cancer survivors have chronic health issues resulting from cancer treatment—but it doesn't have to be this way.  
LLS Dares to Dream of a better solution. 
Treatment options for pediatric cancer patients aren't adequate. Only 5% of cancer drugs are approved for first time use in children, so when a child receives a cancer diagnosis their options are very limited. And in most cases, their families have no other option than to accept side effects from cancer treatments that weren't developed with them in mind.  
Children across the globe deserve better, so The Leukemia & Lymphoma Society (LLS) launched Dare to Dream project to create a world where childhood blood cancer patients not only survive but thrive after treatment. At the heart of this project, in partnership with researchers and healthcare professionals across the globe, LLS launched the first-ever acute leukemia LLS PedAL Master Clinical Trial, leading the way for pediatric blood cancer treatment research.  
The direct result of these endeavors is felt by pediatric blood cancer patients all around the world, like 6-year-old Cayden.  
Blood cancer changed Cayden & Courtney's lives—twice.  
Cayden is a vivacious child whose world turned upside down when he was first diagnosed with acute lymphoblastic leukemia (ALL) in April 2020. His mother, Courtney, remembers receiving the devastating news like it was yesterday. "After the doctor said, 'Cayden has leukemia,' I didn't hear anything else. It felt like my heart literally imploded." 
Shortly afterward, she learned that Cayden had a rare form of this cancer called Philadelphia Chromosome (PH+).  Just 3-5% of pediatric ALL cases are PH+. Cayden underwent treatment for two years and reached remission. He experienced common side effects like hair loss and low energy, but he also developed sepsis and other serious complications.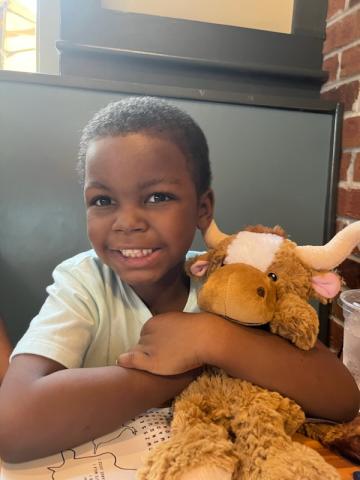 By April 2022, Cayden and Courtney thought their ordeal was coming to a close when they learned he was in remission. She became an ambassador for Dare to Dream, enthusiastically serving as a volunteer with LLS—right up until Cayden's cancer came back merely 9 months later.  
Another battle with ALL 
Cayden began complaining of pain in his foot shortly after Christmas in 2022. At first it came and went, but a few weeks later it became persistent and started swelling. His oncologist initially diagnosed him with osteonecrosis, or bone death. They admitted him for about a week and treated his condition with pain medication and antibiotics. The swelling subsided, but Courtney kept a close eye on him.  
A couple days later, he started experiencing pain in his arm and Courtney immediately contacted his pediatric oncologist. They ordered a bone marrow biopsy that flipped Cayden, Courtney, and the rest of their family's world upside down all over again.  
"It's not good. Cayden relapsed."  
When those words escaped the lips of Cayden's nurse in February 2023, Courtney was in disbelief. "9 months. We only got 9 months. 9 months of no chemo. 9 months of a pseudo-normal life. 9 months of no medical supplies in our house." 
She was devastated and heartbroken—no parent wants to see their child diagnosed with cancer. After a couple of days, she sprung into action researching treatment options as doctors admitted Cayden to the hospital for 23 days of treatment.  
Thanks to LLS-funded research and Dare to Dream, Cayden received CAR-T cell treatment.  
As a Dare to Dream ambassador, Courtney advocated and raised awareness for children who have blood cancer and their families. And she benefited from this role as well. "As an ambassador, I learned so much about treatment options like CAR-T. That knowledge helped me to be better informed and feel more confident going into conversations with Cayden's oncologists after his relapse." LLS's early and sustained research investment was vital to the development of CAR T immunotherapy, which is now a lifeline for thousands of blood cancer patients.  
Courtney and Cayden's healthcare team wanted to give him effective treatment with as few side effects as possible, so they harvested his white blood cells at Duke Children's Hospital in preparation for CAR-T cell treatment. "The process of harvesting his cells was painless, thankfully, and he even took a nap!" 
Doctors taught Cayden's T-cells, a type of white blood cell, to create chimeric antigen receptors (CARs). CARs help T-cells identify and destroy cancer cells. For pediatric cancer patients like Cayden, this helps them fight off cancer without damaging their healthy cells. 
When Cayden's CAR-T cells were ready, he and Courtney returned to the hospital for four days of chemotherapy followed by the CAR-T cell infusion. "Cayden didn't feel a thing and the only side effect he experienced was the fact that he smelled like creamed corn for 24 hours." 
Cayden is thriving following his most recent cancer treatments, thanks, in part, to Dare to Dream.   
Cayden has experienced no complications or major issues since receiving CAR-T cell therapy. He will start second grade in September, and is his normal, playful, energetic self. He is currently in remission and doing well, but is waiting for a bone marrow match in hopes to receive a bone marrow transplant.  
Children like Cayden are why LLS is working so hard to change the status quo for pediatric cancer treatment—so they can get cancer treatment with as few side effects as possible. And dedicated ambassadors like Courtney are pivotal to Dare to Dream's continued success.  
"I dream of a time where treatments can be so efficient and so effective that our children don't have to endure years to a lifetime of treatment and/or side effects. Where a cure can be found without drastically affecting their quality of life moving forward." Together, we Dare to Dream so their dreams come true.  
Learn more about Dare to Dream and how you can contribute to a better future for pediatric blood cancer patients. If you or a loved one need personalized disease, treatment or support information, you can contact one of our Information Specialists: https://www.lls.org/support-resources/information-specialists